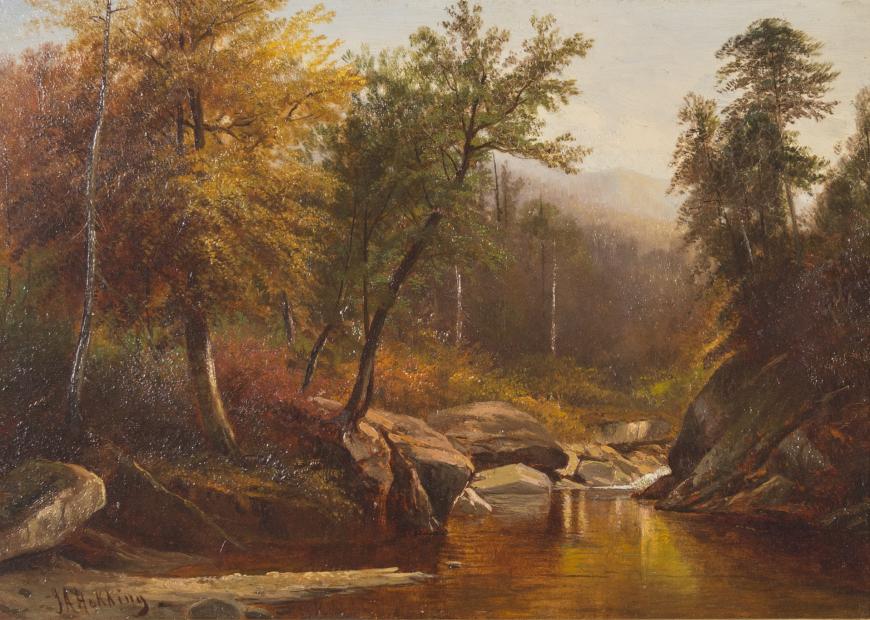 Mountain Stream in the Adirondacks

,

Circa 1865
Oil on prepared millboard
9 3/4 x 14 inches
Framed: 18 x 22 inches
Signed lower left: J A Hekking
artist
Largely a marine painter, Joseph Antonio Hekking was born in the Netherlands in 1830 and was trained in Paris. He was in New York by 1859 and began exhibiting at the National Academy of Design two years later. One of his landscapes appeared in the Pennsylvania Academy's 1861 exhibition. He would participate in several annual shows until 1875. His featured works include Housatonic Scenery and Moonlight in the Adirondacks, 1861, A Summer Afternoon in New England and another landscape in 1862, Storm in the Adirondacks in the following year, and Night on the Ausable, 1875. Having served in the Civil War in a New York regiment, Hekking divided his time between his service and his career as an artist. He exhibited at the Crystal Palace in New York, the Cosmopolitan Art Association, the Buffalo Fine Arts Academy, the Chicago Industrial Exposition, and the Detroit Institute of the Arts.
While living on the East Coast Hekking befriended and often worked with Frederick Rondel, who is known as the only formal instructor of Winslow Homer. His works were also compared to those of Jervis McEntee, whose works were extremely popular during the 1880's. Hekking's paintings were inspired by the Adirondack and White Mountains, Connecticut, New York views, and the Jersey shore. His paintings were actively acquired by important collectors including J.S. Farrand, Sarah Holderby, N.L. Lindsey, T. Foster, and George Watter Vincent Smith.
Description
Mountain Stream in the Adirondacks highlights Hekking's superior representational talent. A bucolic scene, the work conveys a sense of tranquility. Hekking's composition captures the serene and nearly sublime beauty of an Autumn afternoon in the mountains of upstate New York. This work being a Picturesque example of a Hudson River School painting, it can be identified by fine textures, luminosity and an intimate point of view.
provenance
Greenwich Gallery of American Art, 1999 (label verso)
Private Collection, New Canaan, CT