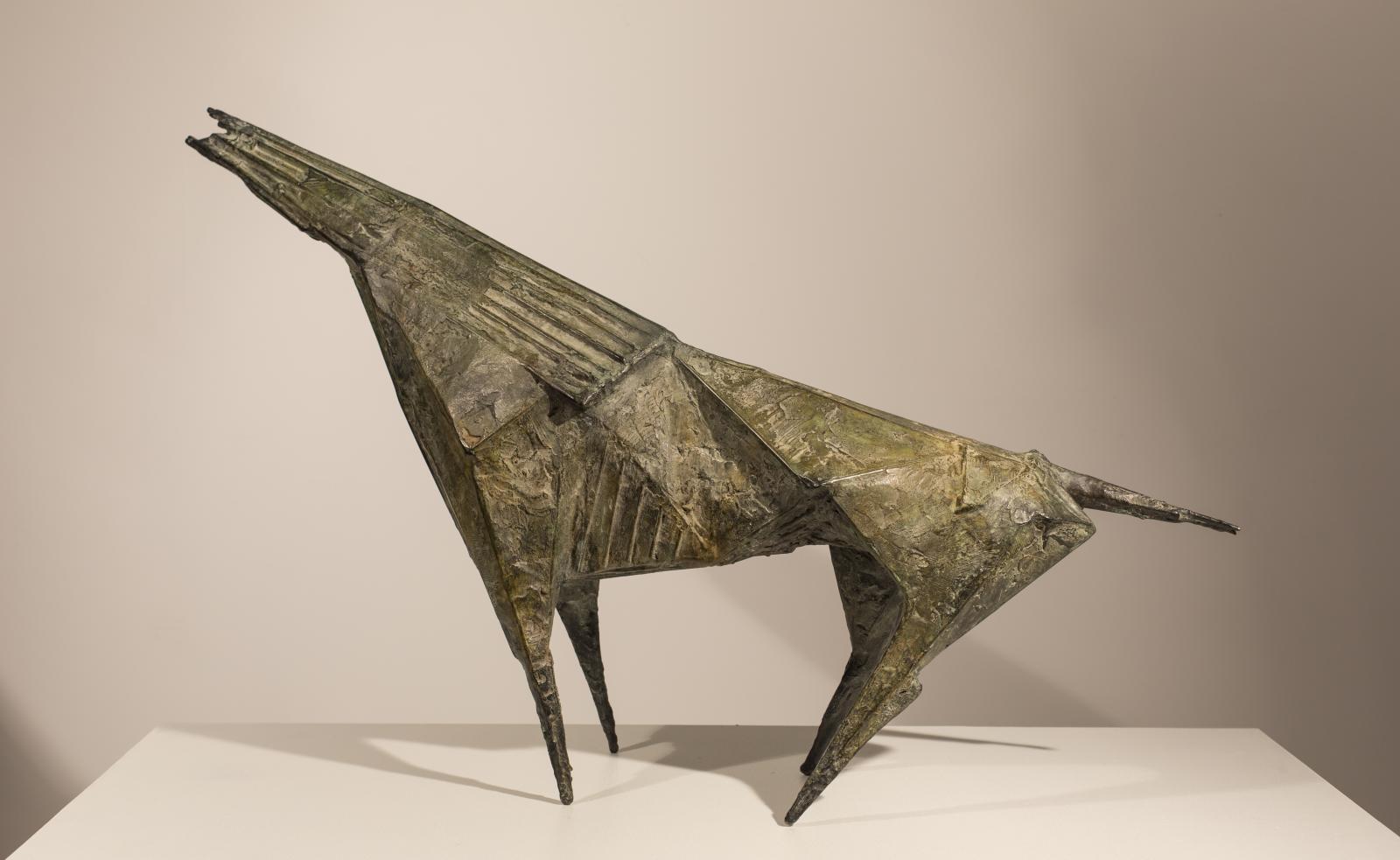 Bronze with a chalky green and brown patina
24 3/4 H x 40 W x 10 1/2 D inches
Edition number 1/9; cast in 1999 by Pangolin Editions. This cast has been verified by Eva Chadwick.
Markings inside left rear leg: Chadwick Triangle cipher; 198 (Chadwick catalogue no.) / 1/9 (Edition no.); Pangolin foundry stamp
artist
Lynn Russell Chadwick was born in London on Nov. 24, 1914. After studying at the Merchant Taylors' School, he worked as an architectural draftsman from 1933 to 1939. He served as a pilot during World War II. After the war Chadwick began to design furniture, textiles and even some architectural projects. He also started to build mobiles similar to those executed by Alexander Calder whose work was at first unknown to him. His first mobile of aluminum and balsa wood was shown at the Aluminum Development Stand at the Builders' Trades Exhibition. Positive public reaction to these mobiles led to his first solo exhibition at the Gimpel Fils Gallery in London in 1950. Chadwick, however, soon discarded these kinetic, moving elements from his sculpture, but continued to use his own particular mode of construction and assemblage rather than the prevailing norm of carving or modeling his sculptures.
Chadwick and his art essentially came of age after World War II, an energetic yet unsettled time of great artistic experimentation when the new existential anxiety movement(a kind of post traumatic war syndrome) confronted both the deep-seated traditions of human representation and a nascent attraction to modern abstraction. In the 1950's he employed skeletal lines and rough planes and surfaces that were organized into generalized images of people and animals. In 1956 when he was 41 and just six years into his art career Chadwick won a first prize for sculpture at the Venice Biennale and along with that award came international fame and enormous financial success. In 1964 he was made a Commander of the British Empire and in 1985 a French Officier de l' Ordre des Arts et des Lettres. His first major success came in 1953 when he was among a dozen semifinalists for the Unknown Political Prisoner International Sculpture Competition, and he received an honorable mention. In the 1960's Mr. Chadwick's work was partly eclipsed by the increasingly abstract tendencies in modern sculpture, but he still enjoyed a lucrative career into the 1980's. His sculptures during this period were human figures cast in bronze and clad in rough drapery while sporting geometric (both pyramidal and rectangular) heads. These works blended the surreal with a monumental quality that was more often associated with the large scale works of Henry Moore. In 1988 Mr. Chadwick was again invited to exhibit in the Venice Biennale for which he created a pair of seated figures, male and female, titled ''Back to Venice.'' These expressionistic, figurative works of welded iron and bronze earned him international acclaim.
Three times married, Chadwick had four children: Simon by his first wife the Canadian poet Ann Secord whom he married in 1942, Sarah and Sophie by his second wife Frances Mary Jamieson whom he married in 1959, and Daniel by his third wife the Hungarian photographer Eva Rainer whom he married in 1965. Chadwick died on April 25, 2003 at the age of 88 at his home in Lypiatt Park in Stroud, Gloucestershire.
Description
"It seems to me that art must be the manifestation of some vital force from the dark, caught by the imagination and translated by the artist's ability and skill."
—Lynn Chadwick
Chadwick's Beast VII was the seventh iteration of the sculptor's Beast series, which would eventually come to include over a dozen separate works and was considered by Chadwick's biographer, Alan Bowness, to include some of his very best work. As Dennis Farr notes,
"Beast VII is typical of Chadwick's ability to create a sculptural metaphor for the essence of animality. Although superficially an abstraction, in that it does not represent a particular kind of beast, the sculpture pulsates with animal vigour as it stretches itself menacingly before us, hackles raised."
—Dennis Farr, Lynn Chadwick, p. 52.
Characterized by sheer inventiveness and originality, the Beast series occupied Chadwick throughout the 1960s, and potentially had deep significance for the sculptor since Chadwick revisited the theme again in the 1990s. Cast in 1956, the year following his having won the International Prize at the Venice Biennale with the submission of Beast 1, our Beast is one of a series of "beasts" that Chadwick sculpted first in bronze in the mid 1950's and later in steel all of which varied in size and were often monumental.
One of the leading British sculptors of the twentieth century Lynn Chadwick created throughout his storied career "visually arresting sculptures". He was an important and significant figure in the history of post war British sculpture. A recipient of the International Prize for Sculpture at the 1956 Venice Biennale, Chadwick was at the time the youngest sculptor to be awarded such a prestigious prize, eclipsing the likes of a Giacometti. His early training as an architectural draughtsman together with his skills in welding gave Chadwick the framework for his unique and individual approach to sculpture. With his own sculptural language Chadwick created a range of "beasts" that reflected his individuality and granted him a special place in the ever-changing world of sculpture.
provenance
The Artist
Galeria Freites, Caracas, Venezuela
American Private Collection
literature
Dennis Farr and Eva Chadwick, "Lynn Chadwick: Sculptor (With a Complete Illustrated Catalogue) 1947-2005," cat. No. 198
Dennis Farr, "Lynn Chadwick," London: Tate Publishing, 2003, fig. 16, ill. p. 45