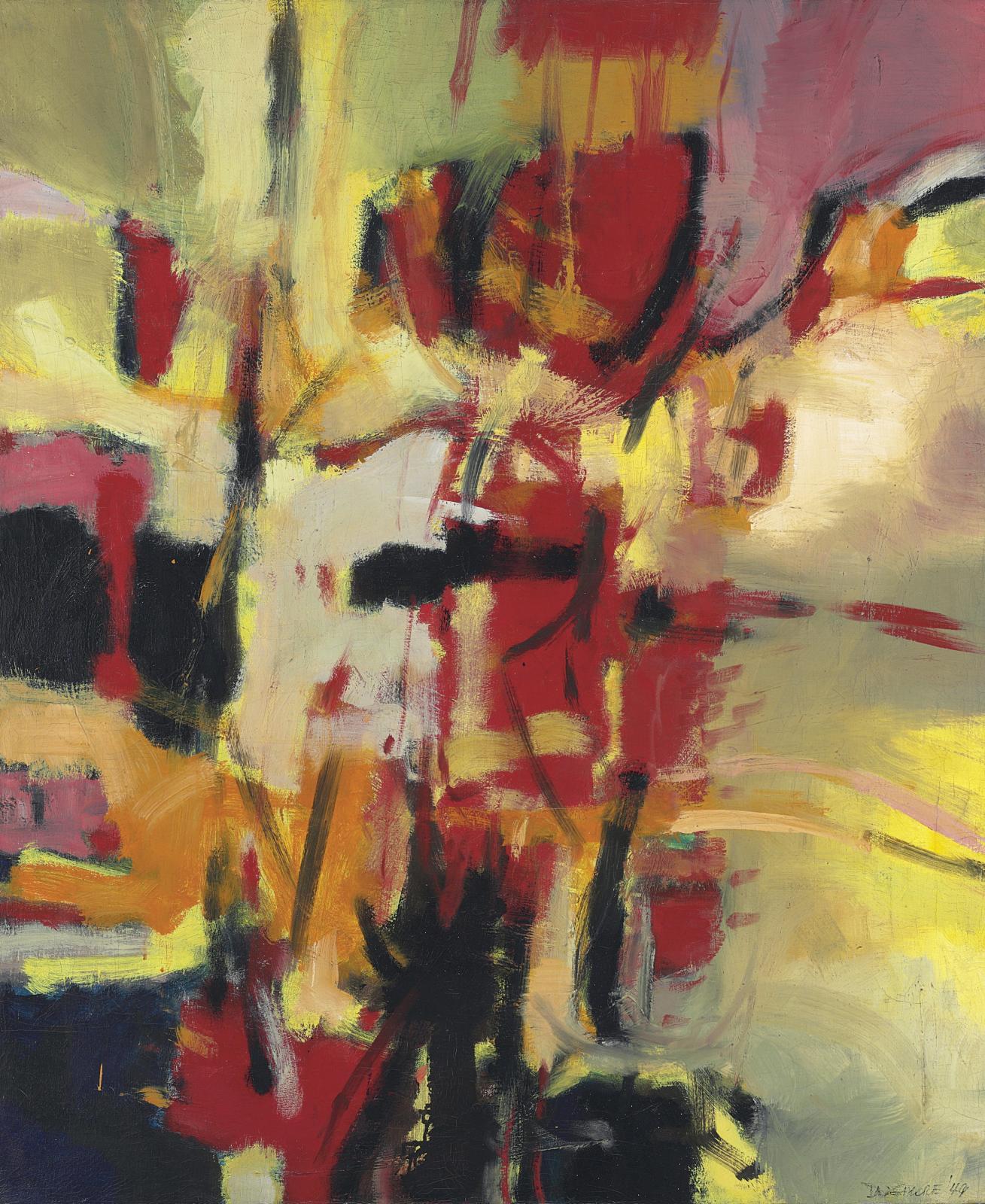 Oil on canvas
48 5/8 x 39 1/2 inches
Signed and dated lower right: Dugmore '49
artist
A first generation Abstract Expressionist artist, Dugmore studied under Thomas Hart Benton at the Kansas City Art Institute in 1940 and then under Clyfford Still at the California School of Fine Arts in San Francisco after the end of World War II. Still had a great influence on the development of Dugmore's art. Ernest Briggs was one of his fellow students at the time and would become a lifelong friend. Dugmore was considered by some to be "the West Coast's answer" to the Abstract Expressionist movement that was firmly rooted in New York City.
Description
"If I say that I am not just making paintings, I would not be making myself clear. Of far greater significance and permanent value than what happens on the surface of the paintings are the ideas they are made of and the feelings they evoke when you look at them."
—Edward Dugmore
In 1949 Edward Dugmore became a founding member of the Metart Gallery, San Francisco's first cooperative gallery and an early venue for abstraction in that city. Coincidentally, that date coincides with the date of our own Metart Series #15. The name of the Metart Gallery was a conflation of the words metaphysical and art. In Dugmore's words the name was intended to "break up this idea that we were all a gang of nonobjective painters." Appropriately, Dugmore's first solo exhibition was at the Metart Gallery in 1950. Dugmore, an Abstract Expressionist artist who was closely aligned with both the San Francisco and New York Post War art worlds, executed large-scale works like our painting that places a premium on color and emotion over intellect and tradition. While our example is oil on canvas, Dugmore, who was a close personal contemporary of such iconic artists as Pollock, Kline, and de Kooning, worked freely in a range of mediums from oil on canvas to watercolor, ink, and acrylic on paper. Dugmore's art was largely spontaneous and uninhibited.
An early picture Metart Series #15 shows the nascent beginnings of Dugmore's predilection to paint pictures that comprised large areas of flat color that seem to fit together like pieces of a puzzle. These areas of color bear more than a passing influence of Clyfford Still with whom Dugmore studied at the California School of Fine Arts in San Francisco after the end of World War II. Dugmore owes much to the tutelage of Still, who was instrumental in his development as an artist. The goal of Dugmore's works was to create art that elicited emotion rather than anything intellectual. His art was spontaneous and uninhibited. It was paramount to Dugmore that a work evoke feelings on the part of the viewer, and this canvas offers a plentitude of reactions due to its highly energized surface, the choice of paint color, and the composition. Dugmore intuitively understood how to contrast colors and here he has used beautiful touches of red. The most important ingredient in Dugmore's work in fact was paint---the painterly accumulation of layers and the accompanying reduction through his deft touch- a process that contributed to a sense of the monumentality so discernible and viscerally felt in Metart Series #15.
provenance
Manny Silverman Gallery, Los Angeles
Private Collection, New York