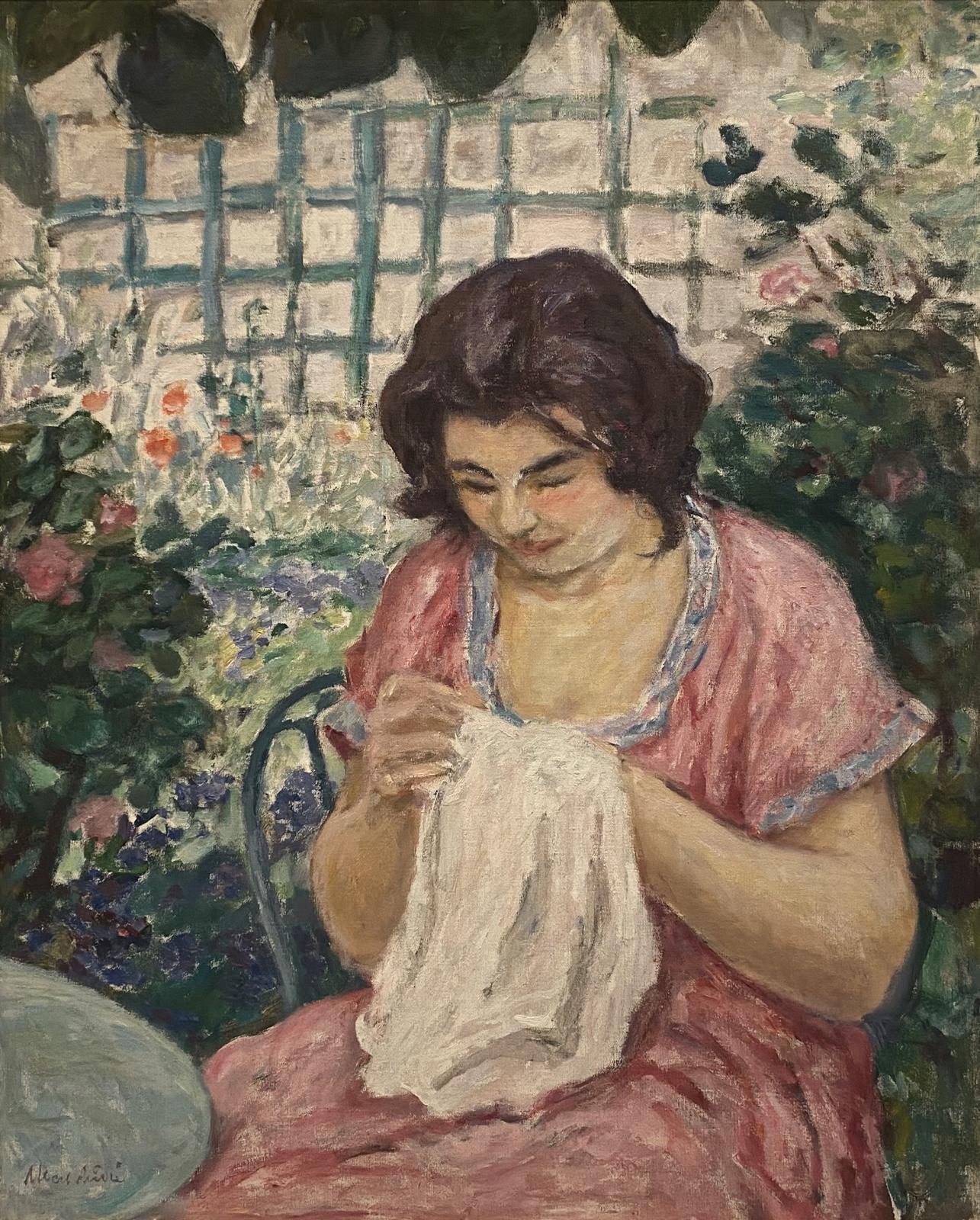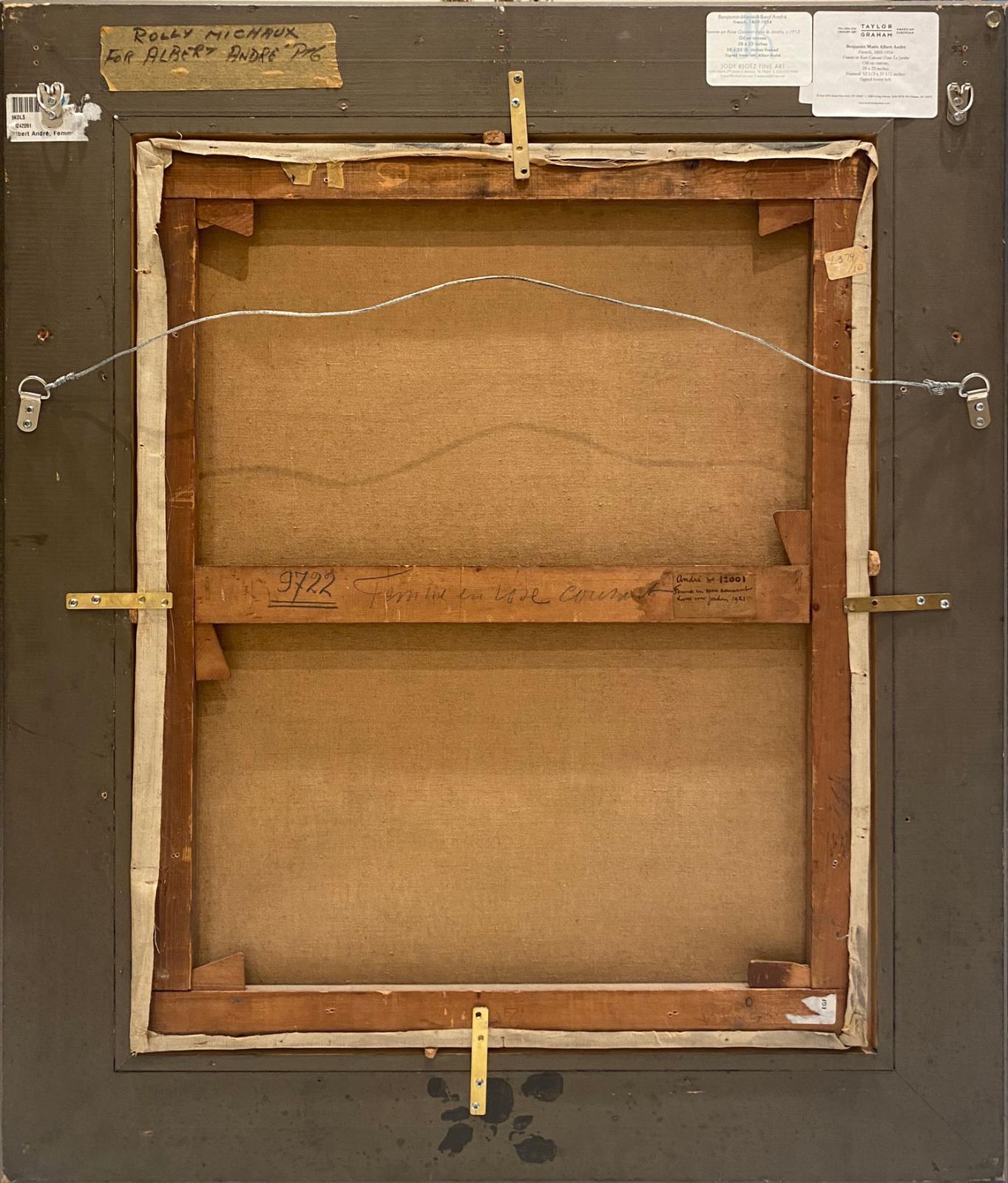 Femme en Rose Cousant dans le Jardin

,

circa 1912
Oil on canvas
28 3/4 x 23 3/4 inches
Framed: 38 x 32 1/2 x 2 3/4 inches
Accompanied by a certificate from Evelyne Yeatman-Eiffel, and to be featured in her forthcoming catalogue raisonné. Confirmed authentic by the secretary at Durand-Ruel Co.
Marked: Andre No 12001 / Femme en rose cousant / dans le jardin, 1921 (label, verso)
artist
Benjamin-Marie-Albert André began his career by surrounding himself with the great impressionist painters of his time; Paul Cézanne, Louis Valtat, Henry Bataille and most significantly, Pierre-August Renoir. Over the past years, André developed his own unique style that set him apart from his contemporaries. He identified himself with the Post-Impressionists and place greater emphasis on form and content than on surface appearance. Post-Impressionism was both an extension of Impressionism and a rejection of its limitations. Many Post-Impressionists continued using vivid colors, thick application of paint, distinctive brushstrokes and real-life subject matter, but they were more inclined to emphasize geometric forms to distort form for expressive effect, and to use unnatural or arbitrary color. Other Post-Impressionists like André attempted to show the world as it actually is. André channeled this concept with his unpretentious appreciation of the simplest things of everyday life and of nature, a quality also found in the paintings of his old friend, Renoir. André compiled two books on Renoir that expressed his admiration for Renoir's inspiration to paint what was around him.
Description
In Femme En Rose Cousant Dans Le Jardin, André exemplifies Renoir's approach to painting (that is, painting one's surroundings) as he portrays a woman sewing in a garden. According to Evelyne Yeatman-Eiffel, this painting bears a striking similarity to Dans Le Jardin de Laudun, reproduced on page 75 of the monograph Albert André which has been dated to 1912.
In Femme En Rose Cousant Dans Le Jardin André is working with several techniques that are unique for this period in Art history. For example, the brushwork is specific to Post-Impressionism and in particular, Albert André. He deviates from the dense brushwork commonly associated with the impressionists. Instead, André takes a unique approach to the canvas by finding a medium between heavy and light pigment use. The color palette is intelligently chosen; André implements contrasting colors which lead the eye around the canvas. With the exception of the garden trelice in the background, André paints all the figures on the same plain, a common theme in Impressionist and Post-Impressionist painting. Femme En Rose Cousant Dans Le Jardin is a perfect example of Albert André's work and that of the Post-Impressionists.
provenance
Purchased directly from Albert André by the Durand-Ruel Co. on July 4, 1921, stock Nº 12001, photo 9722
Sold to Galerie George Petit on April 18, 1925
On Loan at the Los Angeles County Museum, accompanied by the museum's seal, Acc. No: A.809.38-189
Purchased by Galerie Rolly-Michaux Boston-New York, April 17, 1974
Purchased by the Pollack family, descended to Edith Pollack
Purchased from Pollack family
exhibitions
Exhibited at the André Retrospective in Bordeaux, France.