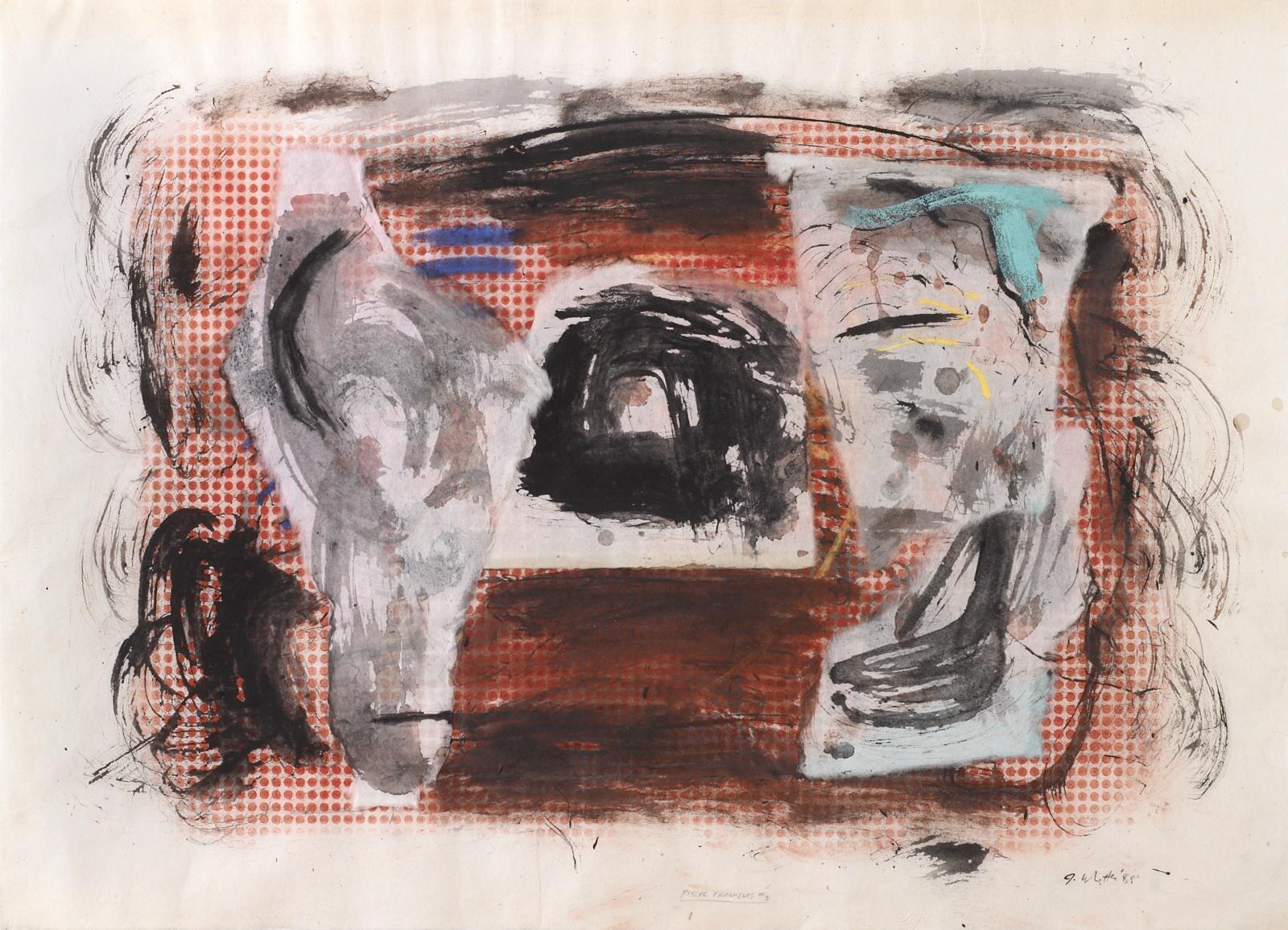 Psychic Fragments #3

,

1988
Mixed media, including gouache, watercolor, and ink, on cream Japan paper
21 x 28 1/2 inches
Signed and dated in ink and titled in pencil, lower margin
artist
Born in Bessemer, Alabama in 1939, Jack Whitten is celebrated for his innovative processes of applying paint to the surface of his canvases and transfiguring their material terrains. Although Whitten initially aligned with the New York circle of abstract expressionists active in the 1960s, his work gradually distanced from the movement's aesthetic philosophy and formal concerns, focusing more intensely on the experimental aspects of process and technique that came to define his practice. Noted for raucous colors and density of gesture combined with topical content, his artwork of this period manifests emotionally complex meditations on Dr. Martin Luther King, Jr., the Civil Rights movement and the Vietnam War.
Description
Paint became a metaphor for skin during the 1980s when Whitten experimented with "casting" acrylic paints and compounds to create new surfaces and textures. In contrast to the narrative-based and didactic work made by many African-American artists during this period, Whitten's artworks reintroduce gesture with aspects of sculpture and collage. 1985 saw the artist introduce wire mesh netting as a tool, using it to create a grid on wet acrylic. Each small square is coloured individually, creating a canvas that flickers like a distant metropolis. Its pixel-like elements derive from grids designed for electronic scanning. The artist would return to a similar use of units of colour in the late 2000s with a series titled E-Stamp.
A few years prior to executing this piece, a fire devastated Whitten's studio, resulting in a three-year hiatus in his practice from 1980 until 1983. In 1983 The Studio Museum in Harlem organized the exhibition, 'Jack Whitten: Ten Years, 1970 – 1980' curated by long-time champion of the artist, Henry Geldzahler. With the prospect of a new show, and aided by Geldzahler's curatorial reflection, Whitten's return to the studio ushered in a prolific new phase of painting – he returned to the gesture of the hand, working with small, self-designed tools and reintroducing the paintbrush. He began by developing a series of circular oil and acrylic reliefs that call to mind systems of celestial navigation. Using a trammel head, Whitten incised arcs, lines and concentric circles into quarter-inch-thick acrylic planes. The dashed lines reveal buried layers of primary colour underneath a large swathe of black or grey, as if to offer a glimmer of a hidden cosmos.
provenance
G. R. N'Nambi Gallery, Birmingham, MI
Private collection, New York