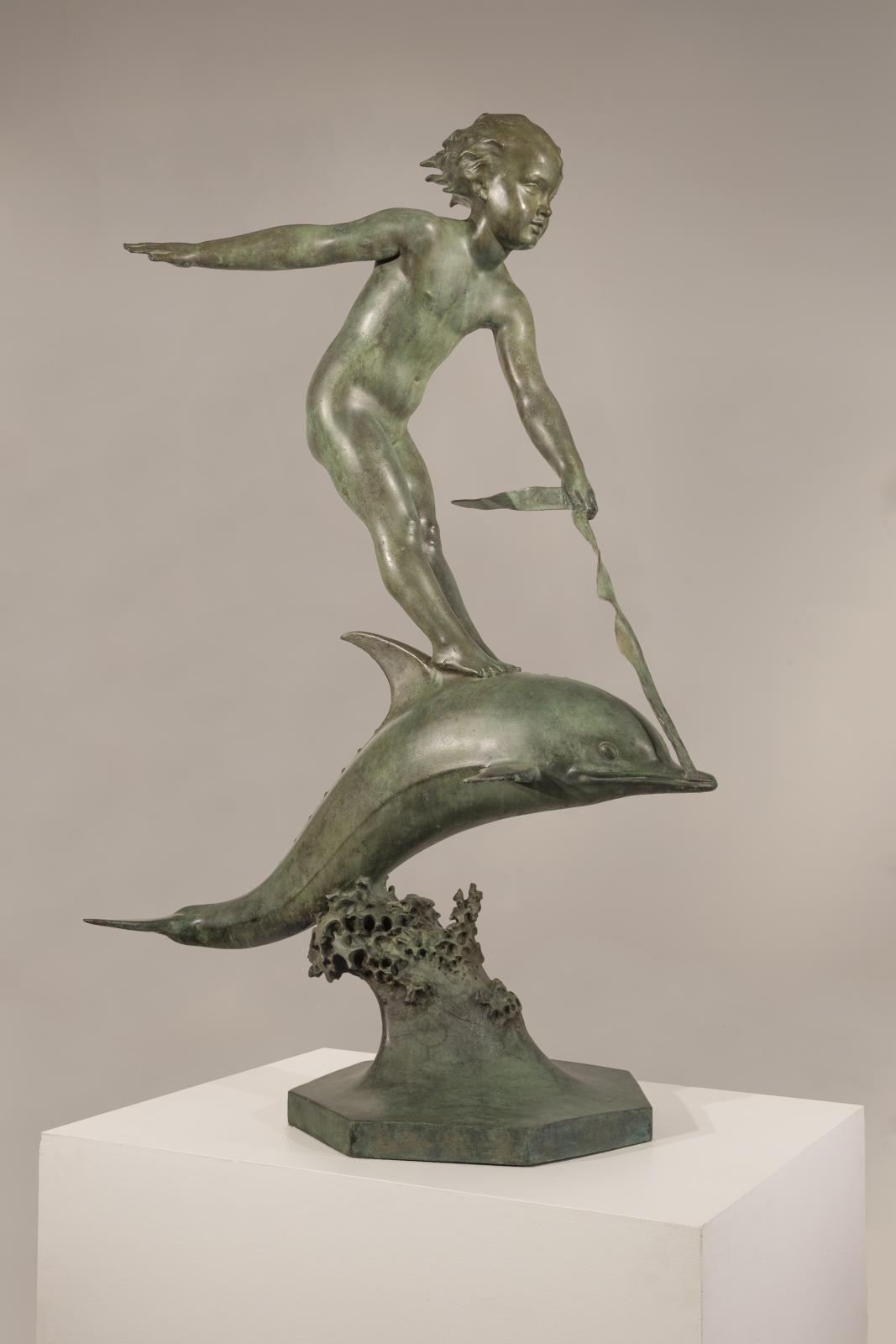 Bronze with a variegated green patina
48 H x 31 1/4 W x 17 1/4 D inches
Signed on left base: (c) / 1931 / C.P.Jennewein
artist
C. Paul Jennewein (1890-1978) was a highly regarded and successful American sculptor of the mid-20th century. He immigrated to the United States from Germany in 1907 and within four years of his arrival began receiving important national and international art commissions that drew upon his skills as an ornamental sculptor and as a painter. He is widely recognized for being among the artists who popularized the Art Deco style in the United States. Active throughout the early to mid-20th century, Jennewein created works that ranged from intimate small-scale bronze sculptures to major architectural projects. Cast in bronze, his works adorn gardens and fountains and significant works of architecture throughout the country and abroad. His creations not only reveal the inspiration of the ancient world but also engage with the new sculptural styles appearing in Europe in the early decades of the twentieth century.
Description
Originally conceived as a fountain group, Over the Waves was created in response to the popularity of garden sculpture in the 1920's. The composition was cast in two sizes, this 48-inch outdoor version and a small-scale model, of 12 inches. There are four known castings of the large outdoor version of this sculpture, one at the Figge Museum in Davenport, Iowa, and two castings at the Tampa Museum of Art. The artist's estate is held at the Tampa Museum. One cast of this model is on public display as a fountain centerpiece, at the Tampa Civic Center.
The 48-inch outdoor version of Over the Waves was designed as a fountain centerpiece. We are aware of one casting, that is itself, plumbed as a working fountain, the example at the Figge Museum. Jennewein used numerous well-known American foundries to cast his work, among them, Roman Bronze Works, Gorham Co., American Art Foundry, and Kunst foundry. Around 1925 the artist began using a foundry in Munich, Germany, Priessmann Bauer & Company, which excelled at producing the flawlessly finished surfaces and rich patinas that he desired.
There are two very accessible works by Jennewein, here in New York City. The nine gilt figures representing mercantile activities, for the doors of the British Empire Building at Rockefeller Center, on Fifth Avenue at 51st street and the bas relief façade of the prominent apartment building, at 21 E. 72nd street, at the corner of Madison Avenue. The lobby garden centerpiece, of the same building, is a 1/3 life size gilt gazelle by Jennewein.
Other known castings in 48" size:
Figge Art Museum, Davenport, IA
Tampa Civic Center, Estate of the Artist, Collection, Tampa Museum of Art
Tampa Museum of Art, Tampa, FL, gift of James and Joan Jennewein
provenance
Private Collection, Glauchau, Germany
literature
Howarth, Shirley Reiff. C. Paul Jennewein. Tampa Museum: Tampa, FL, 1980. Print. p. 32. Illustrated p. 49.
Conner, Janis C., Joel Rosenkranz, and David Finn. Rediscoveries in American Sculpture: Studio Works, 1893-1939. Austin: U of Texas, 1989. p. 82.
Cunningham, John J. C. Paul Jennewein: The American Sculpture Series. University of Georgia Press: Athens, GA, 1950. Illustrated p. 30.