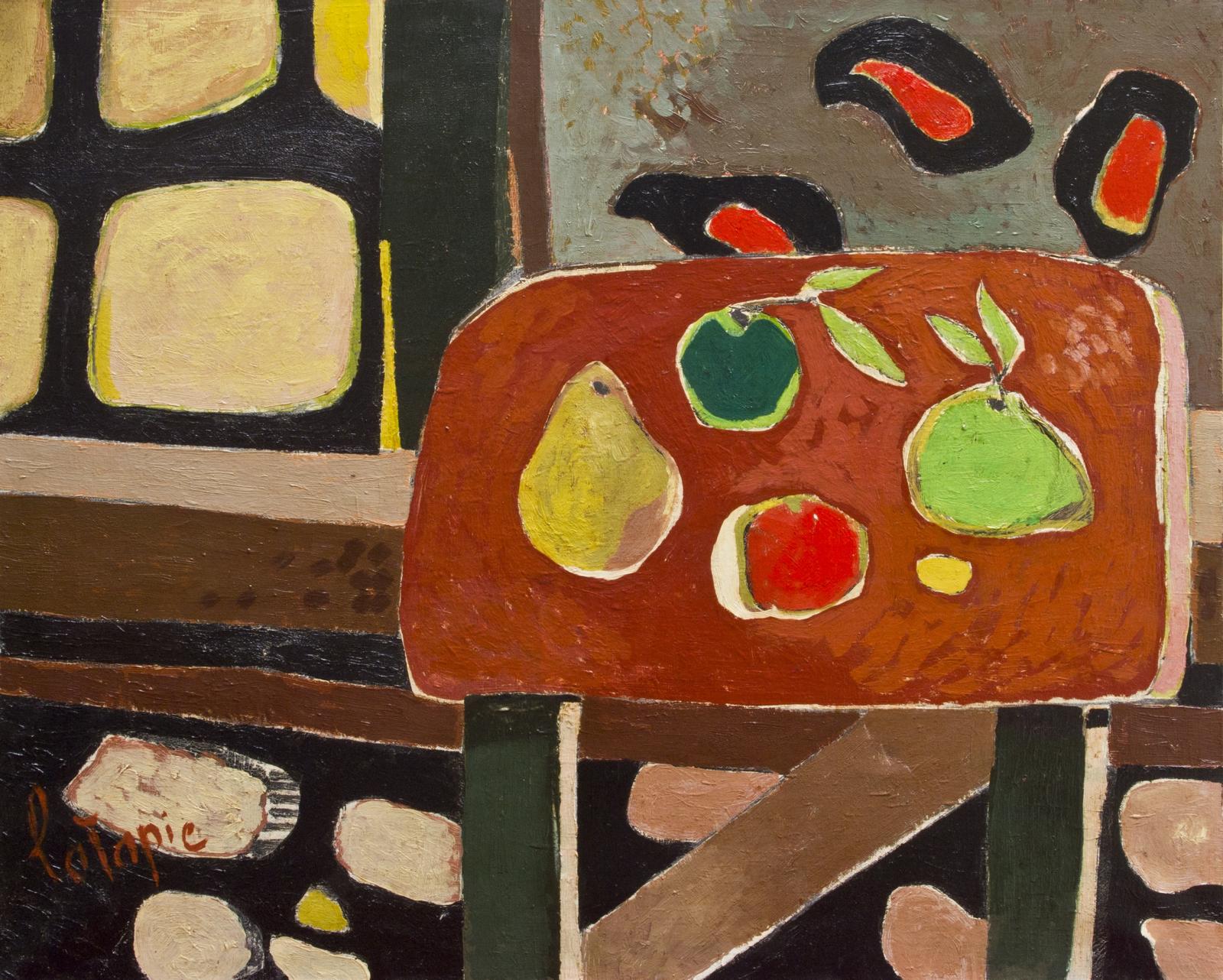 Nature Morte aux Fruits

,

1949
Oil on canvas
23 5/8 x 28 5/8 inches
Framed: 26 5/16 x 31 1/4 inches
To be included in the catalogue raisonné of paintings by Louis Latapie currently being prepared by Mme. Laure Latapie. Accompanied by a certificate of authenticity by Mme. Laure Latapie.
Signed lower left: Latapie
artist
Louis Latapie was born on July 11 1891 in Toulouse, France. His father was a well known journalist and editor of Le Télegramme and La Liberté. Louis Latapie had an interest in art from a very early age, and is known to have been drawing regularly by the age of ten. He registered for classes at the Ecole des Beaux-Arts where he studied under Jean-Paul Laurens. In 1911, he became a student at the Académie Julien and also at the Académie Ranson where he was introduced to cubism by Paul Sérusier.
Louis Latapie was sent to the war in 1914, where he was injured three times and one of his brothers was killed in action. Upon his return from the war, Latapie began to reestablish himself as an artist and in 1920 he became a professor at the Académie Ranson. This was a very critical time for the artist, as he met numerous artists who would become a great influence on his own art; Roger Bissière, Jean Metzinger, Max Jacob and Jacques Villon. This was a year in which Louis Latapie met and married his first wife, Estelle Isch-Wells. In 1922 Latapie entered numerous exhibitions, including several one man shows at the Galerie Druet. In 1923 Latapie formed the group, known as Castors de Montsouris, with Georges Braque, Bissière and Ozenfant that laid down the basis for the cubist movement. This would have been a particularly happy time for the artist, but his wife, Estelle, died suddenly that same year. Devastated by his loss, Latapie moved to Toulon in 1925. In 1927, he moved to Paris where he met his new wife, Renée Meurisse, and spent the next few years teaching and travelling between Paris and Toulon. After serving in the war a second time, Louis Latapie bought a studio in Seine-Port and became associated with the School of Paris.
Description
Although Louis Latapie did not date this work, Nature Morte aux Fruits exhibits the tendency away from cubism and towards abstraction that Latapie experienced later in his career. This painting boasts a vibrant color scheme that is common in the artist's paintings from the late 1930's forward. In this abstract-cubist work, Latapie allows the viewer to enter the canvass at an impossible view point. The pears and apples that the artist has painted exhibit a playfulness that is further accented by the organic shapes that appear on the wall paper and carpeting below. Beginning in 1949 and continuing through the 1950's, Louis Latapie painted a plethora of works with the nature morte theme. According to Madame Laure Latapie Nature Morte aux Fruits was completed in 1949.
After serving in the war a second time, Louis Latapie bought a studio in Seine-Port and became associated with the School of Paris. Shortly after his move his work began to turn away from cubism and focus on abstraction. It is at this point that Nature Morte aux Fruits was painted. The work is signed in the lower left of the canvas, in Latapie's typical lower case cursive mark.
provenance
Private Collection, Paris