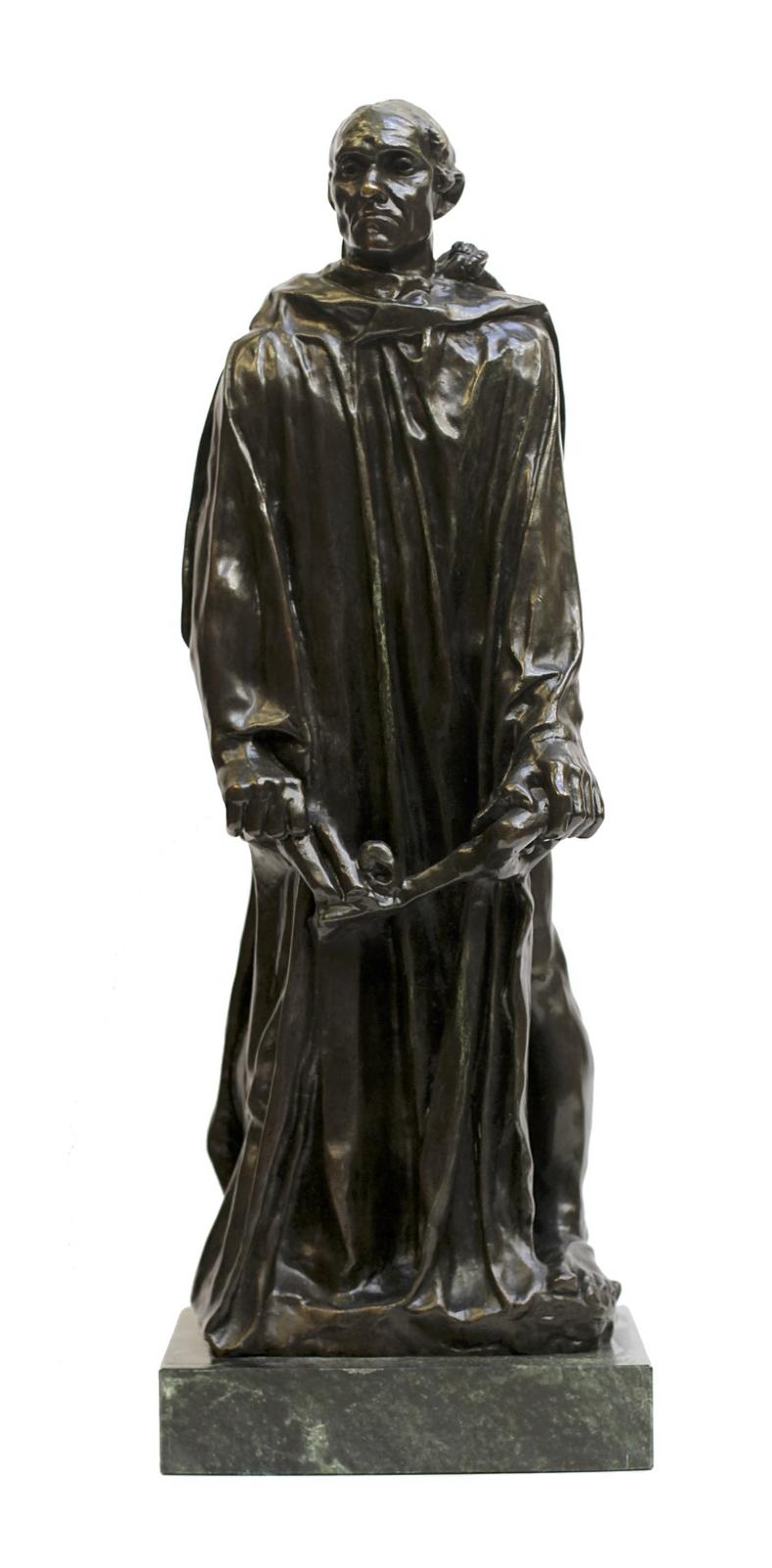 The Burgher of Calais

,

Circa 1880s
Bronze with a black patina and green undertones
Raised on a Green Marble base
19 3/4 H x 5 W inches
Signed: A. Rodin; inscribed: Alexis Rudier Fondeur. Paris
artist
Auguste Rodin's exceptional works comment on the best and worst of human emotion. His works are known to portray human strength, beauty, as well as vulnerability and anguish. Breaking away from idealistic traditions, Rodin instead took a realistic approach and created works that emphasized detailed human emotion through physical expression. Rodin created profound works over the course of five decades.
Born in Paris, Rodin attended the school "La Petite Ecole" where he studied drawing and painting. He studied with sculptor Jean-Baptiste Carpeaux from 1854-1857, and for the next two decades made his living by creating decorative objects. He later went on to study with Antoine-Louis Barye whose incredibly detailed animal sculptures impacted Rodin.
Description
Les Bourgeois de Calais is one of the most famous sculptures by Auguste Rodin, completed in 1889. It is probably the best and certainly the most successful of Rodin's public monuments, commemorating an occurrence in 1347 during the Hundred Years' War when Calais, an important French port on the English Channel, was under siege by the English for over a year. Calais commissioned Rodin to create the sculpture in 1884.
Rodin chose to portray the moment in the narrative when the men, believing they are going to die, leave the city. He showed the burghers as vulnerable and conflicted, yet heroic in the face of their likely fate.
Our individual cast has been identified as a very rich respected burgher named Jean D'Aire. One of six men who had offered themselves as hostages to induce the English to lift a siege and spare their starving city, Jean d'Aire is portrayed with his gaunt body visible through the sides of his shirt, standing upright as a pillar, with squared shoulders, massive clenched hands, and a stoically set jaw. In his bony face and sunken eyes one can read what his sacrifice is costing.