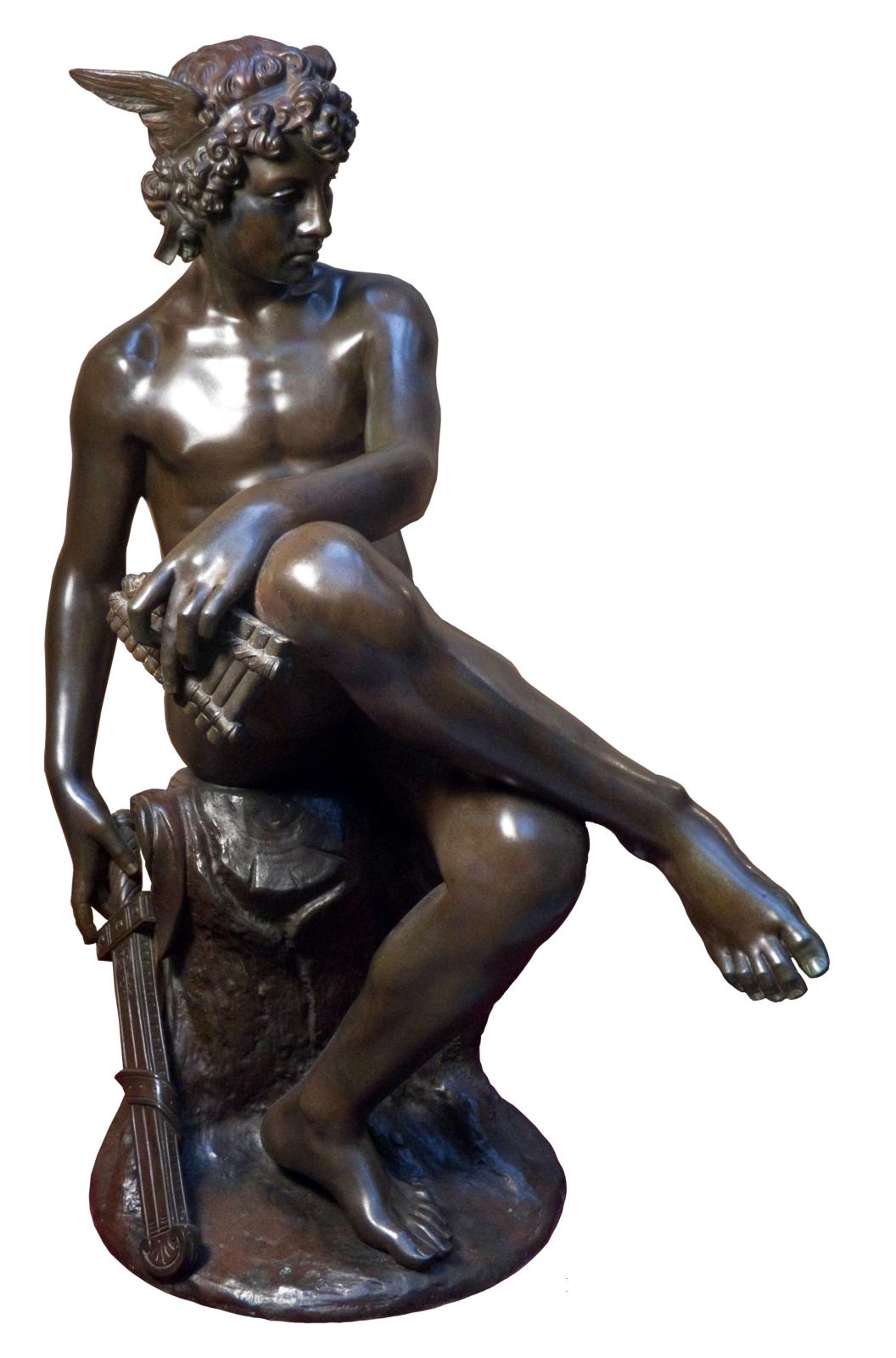 Seated Mercury

,

Circa 1867
Bronze
25 1/2 H x 13 W inches
artist
Montagne won the National Lottery Prize sponsored by the French Government. He garnered various medals at the Salon in Paris in 1867 and 1869. He had received training from the great Francois Rude's atelier where neoclassical beliefs were strictly adhered. Sculptors like Emmanuel Fremiet and Antoine-Louis Barye had also learned methods and techniques of sculpting in Rude's studio. It appears though that Montagne returned often and was comfortable in his home town of Toulon. This is where he was born and it was where he studied for quite a number of years before venturing forth to Paris. Upon receiving recognition at the Salons he was given the commission to be in charge of the architectural and sculptural decoration of the Grand-Théâtre in Toulon. He also has six statues at the Musée de Toulon. He received modest but impressive commissions during his career such as marble bust at the Conservatoire des Arts et Metiers and an inaugural bronze in Saint-Tropez to cite a few.
Description
Young Seated Mercury by Marius P. Montagne depicts the Roman god Mercury, also known to be titled Young Hermes after the Greek god Hermes. Both gods are one in the same and are usually interchangeable within the same myth. According to Roman mythology, Mercury is known to be the messenger of gods, the god of trade, profit, commerce and travelers. With all his merits, Mercury is also a trickster of sorts and hence is the patron to thieves. Mercury is usually presented in shepherd's clothing and either has wings on his feet or a winged hat. Montagne has chosen to adorn the young Mercury with a sheathed sword, a pan flute and winged hat. Another Mercury sculpture by Montagne received the National Lottery Prize in Paris, France.
In the 19th century in France, it was common for a sculptor to cast their most successful works in great number as opposed to a very limited and small edition. Montagne's Young Seated Mercury is a great composition. Mercury is a subject that was approached by almost all sculptors coming forward into the 19th century. Not all depictions of Mercury prove to be memorable, moving and exceptional. Yet Montagne's composition is a very fine interpretation in all respects. It must have struck a chord with collectors at the time as Montagne cast this work probably in a number above twenty and under fifty. The appeal of the work is in the very refined and handsome modeling of the head, hair and features in the face. As well, the seated posture is beautifully handled achieving a very relaxed yet elegant stance.
As the 19th century was a strong period for the production of bronzes in Paris, we tend to shy away from many works cast in number during this time frame. However, there is a handful or more of works that are classically successful, enduring and set themselves apart. We find this work by Marius to be in that category. It can be viewed next to the finest works of any other sculptor and hold its own.
provenance
Private Estate Garden, Ellsworth, Maine
Remained in the above collection for many years