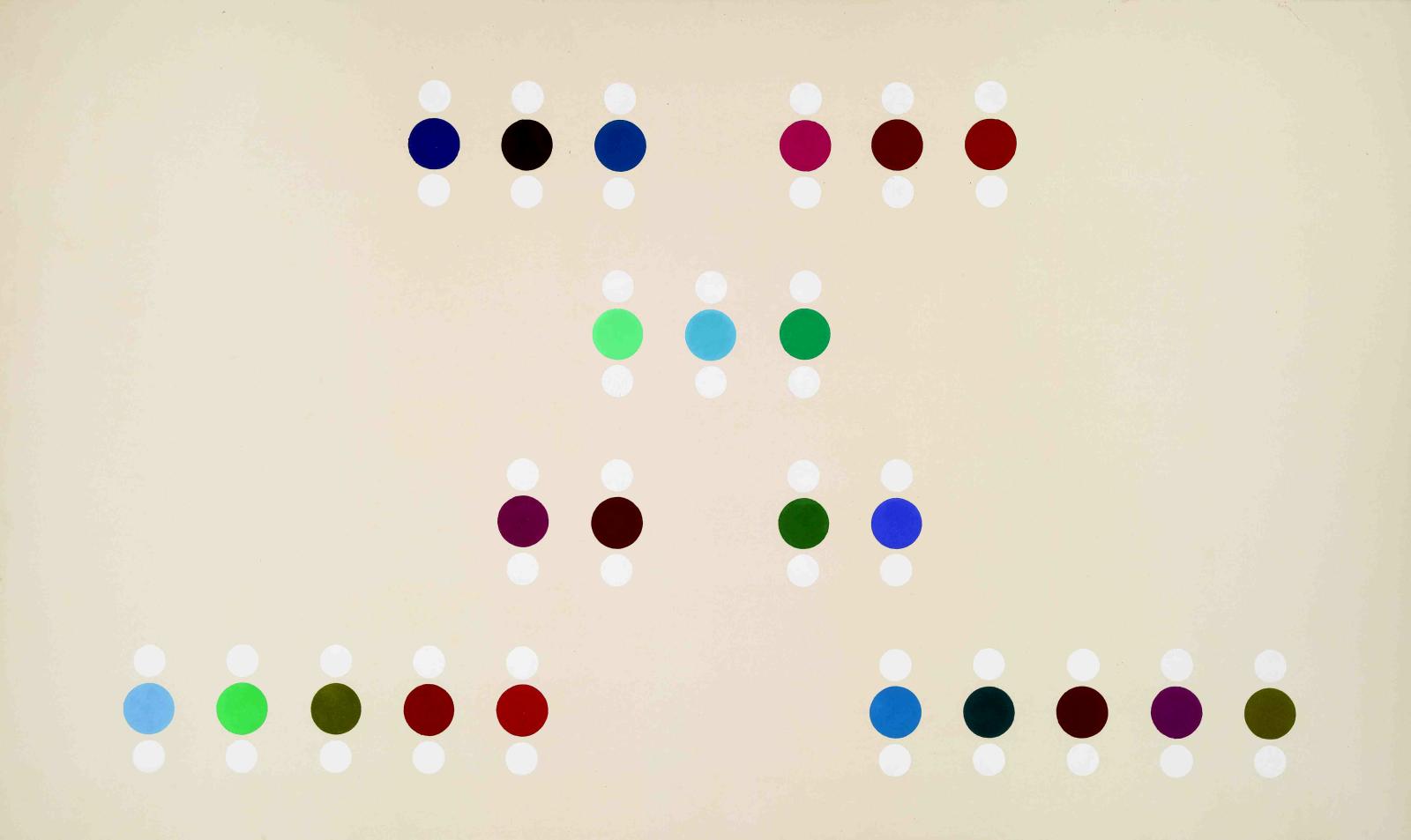 Acrylic on canvas
90 x 150 inches
Titled and dated on overlap
artist
Thomas Downing was a member of the Washington Color School co-founded by Morris Louis and Kenneth Noland. Downing is best known for his paintings of multiple colored disks systematically arranged into rectangles or squares. It has been suggested that such rigid and minimalist grids of large colored dots were created to protest the painterly "action" paintings of the Abstract Expressionists. These works by Dowling carefully avoided any evidence of the actual act of painting or brushstrokes. They are pure, clean, and almost mathematically measured. There is a freshness and yet also a formality here even as Downing experimented with different sizes and shapes as well as with different contrasting colors to elicit an optical illusion. Downing's occupation with color and their particular choices implies a knowledge of works by Josef Albers as well as the influence of Kenneth Noland and Morris Louis. It is interesting to compare these works by Downing with the "spot paintings" of the contemporary artist Damien Hirst. This period of hard-edged abstraction is just now beginning to soar in interest amongst collectors.
Thomas Downing worked in Washington, D.C. during the Color Field Movement of the 1960s. Raised in Virginia, he studied at Pratt Institute in Brooklyn, New York and the Académie Julian in Paris before settling in Washington in 1953. He attended Catholic University where he studied with Kenneth Noland, who became a close friend. Later in the decade, he shared a studio with Howard Mehring, who also became a part of the group of Color Field painters.
In 1964 the iconic art critic Clement Greenberg included works by Thomas Downing, Howard Mehring, Kenneth Noland, Frank Stella, and Helen Frankenthaler, among others, in his influential show at the Los Angeles County Museum of Art entitled "Post Painterly Abstraction." The title of this show became a byword for the movement itself, a term that drew a distinction between Color Field painting and gestural abstraction. From 1965 until 1968 Downing taught at the Corcoran School of Art in Washington, D.C. During his time in the city Downing exhibited regularly. Downing died in Provincetown, Massachusetts in 1985. His work can be found in numerous public collections. There will be an exhibition of Thomas Downing's works in 2015 at American University in Washington, D.C.
Description
In Ambilobe from 1972 Thomas Downing continued his quest to explore the infinite possibilities of color as well as color in space. By freeing color from its more traditional roles and associations, Downing sought to make color the sole and central subject of his works. His distinctive style associated with the Washington School of Color Movement employed circles of varying sizes and hues that seem to float in undefined and limitless space. It is interesting to note that the title of this work may reference a region on the island of Madagascar or even more interesting the panther chameleons inhabiting the island who change their colors into an infinite variety of reds, blues, and greens, colors which resemble the colors of the circles in Downing's work. The color choices here imply that Downing had more than a passing knowledge of Josef Albers' own use of color-space illusionism. The pulsating effect of these colors arranged in careful premeditated spaces was heavily influenced by the works of Helen Frankenthaler and Morris Louis. A very key and important color in this work is the use of the white circles attached to each colored circle on the top and bottom, a device which seems to anchor the dots within the limitless space as well as to form continuous color arrangements. Each color was very carefully considered by Downing. Light was also an important influence for Downing, and this work which has a broad flat background color certainly makes use of that critical element. Ambilobe was executed at the apex of Downing's artistic career and development. It is an important work and one that stands out in the body of Downing's paintings.
provenance
Private Collection, Houston
Acquired by the present owner from the above circa 1987