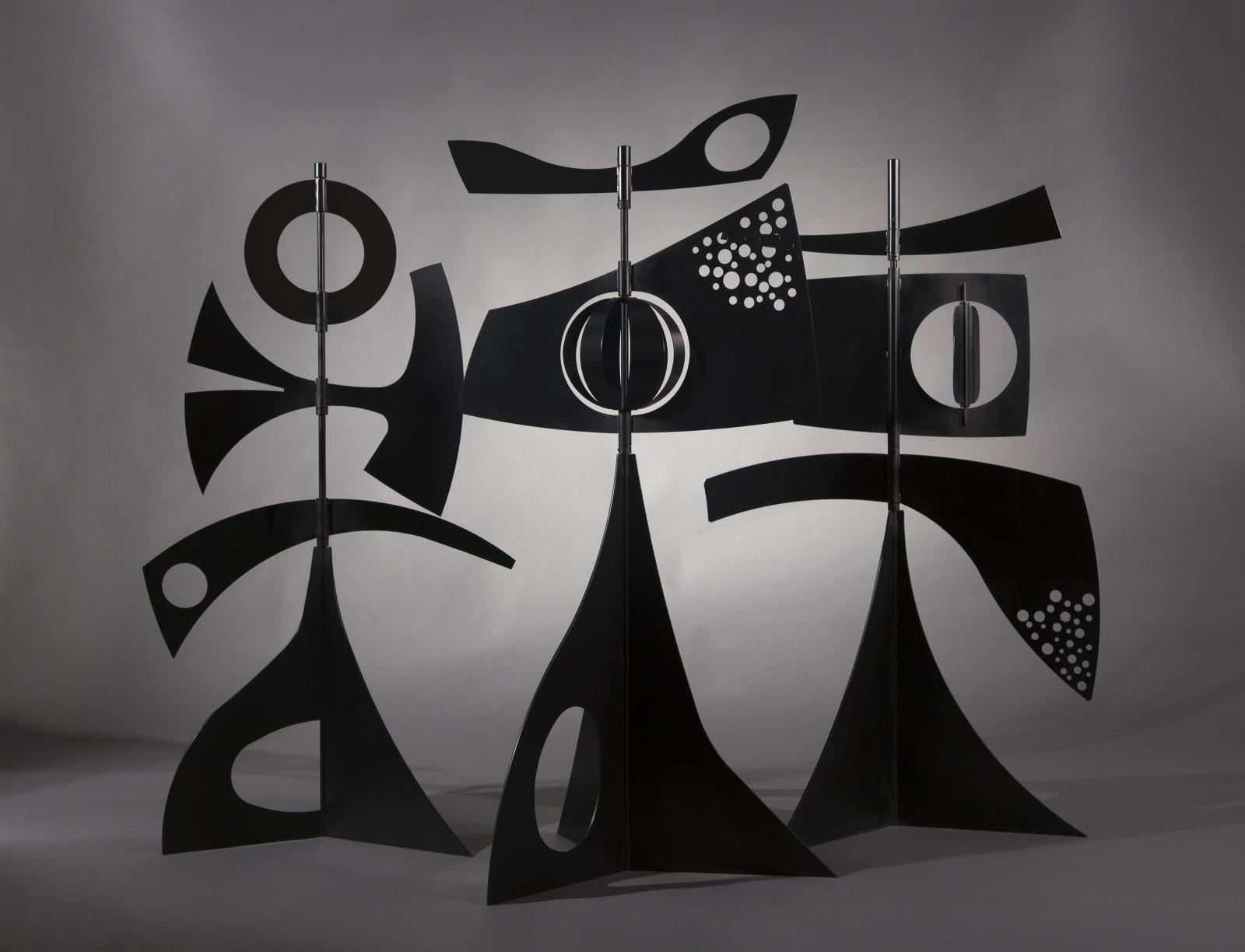 Girouette Marbella

,

2009
Philippe Hiquily
Steel with a black patina
40 H x 25 W x 25 D inches (largest)
Composed of three separate pieces
Fourth Artist Proof in an edition of 8 plus 4 Artist Proofs
This piece has been authenticated by the Comité Hiquily.
Each piece signed and numbered on edge of base: HIQUILY EA 4/4
Artist
Philippe Hiquily was born in Paris in 1925. At the age of 18, he enlisted in the French Army, fighting in the campaign for Indochina in 1945. He began sculpting in the early 1950s, utilizing iron, sheet metal, brass, and aluminum. He studied at the Ecole des Beaux-Arts from 1948-1953, working as a pedestal-maker under the sculptor Germaine Richier. Hiquily was also known to frequent the workshop of Jean Tinguely. In his final year of study, Hiquily's Neptune won the school's 1953 Prix de Sculpture.
He exhibited for the first time at Galerie Palmes in Paris in 1955. A second exhibition at Contemporaries in New York in 1959 afforded Hiquily the chance to interact with art world luminaries Leo Castelli, Rauschenberg, Rosenquist, Johns, and Noguchi, to name a few. Success came quickly for Hiquily, whose work was purchased by both the MOMA and Guggenheim prior to 1965. After 1960, Hiquily began creating surrealist furniture, and in 1980, shifted to working in bronze.
Hiquily's work is seen as inherently anthropomorphic, and by extension, erotic. Their universal smoothness, combined with their naturalistic form—Hiquily often utilized elements resembling antennae, horns, and legs—lends his works a sense of balance and equilibrium. Critics have drawn a linear relationship between the sensuality embedded within his sculpture and the cultural movement toward sexual liberation that began in 1968; many consider him a herald of the revolution. He is related to the Surrealist movement and noted as a progenitor of Kinetic Art. Tending toward the use of scrap metal and objects, Hiquily can also be considered one of the Nouveau Réalistes. He participated in various 'Happenings' and starred in the 1965 film "Paris vu par…" directed by Jean-Luc Godard. Never a Surrealist or Abstractionist by name, Hiquily instead chose to work in an aesthetic vein all his own, and as such his work is remembered for its unique elegance and sense of enchantment.
Provenance
Collection of the artist
Private Collection, acquired directly from the above
Literature
A. Jouffroy, J-F. Roudillon, T. Hiquily, Philippe Hiquily. Catalogue Raisonné, 1948-2011, Volume 1, Paris, 2012, No. 640 (ill. p. 414).