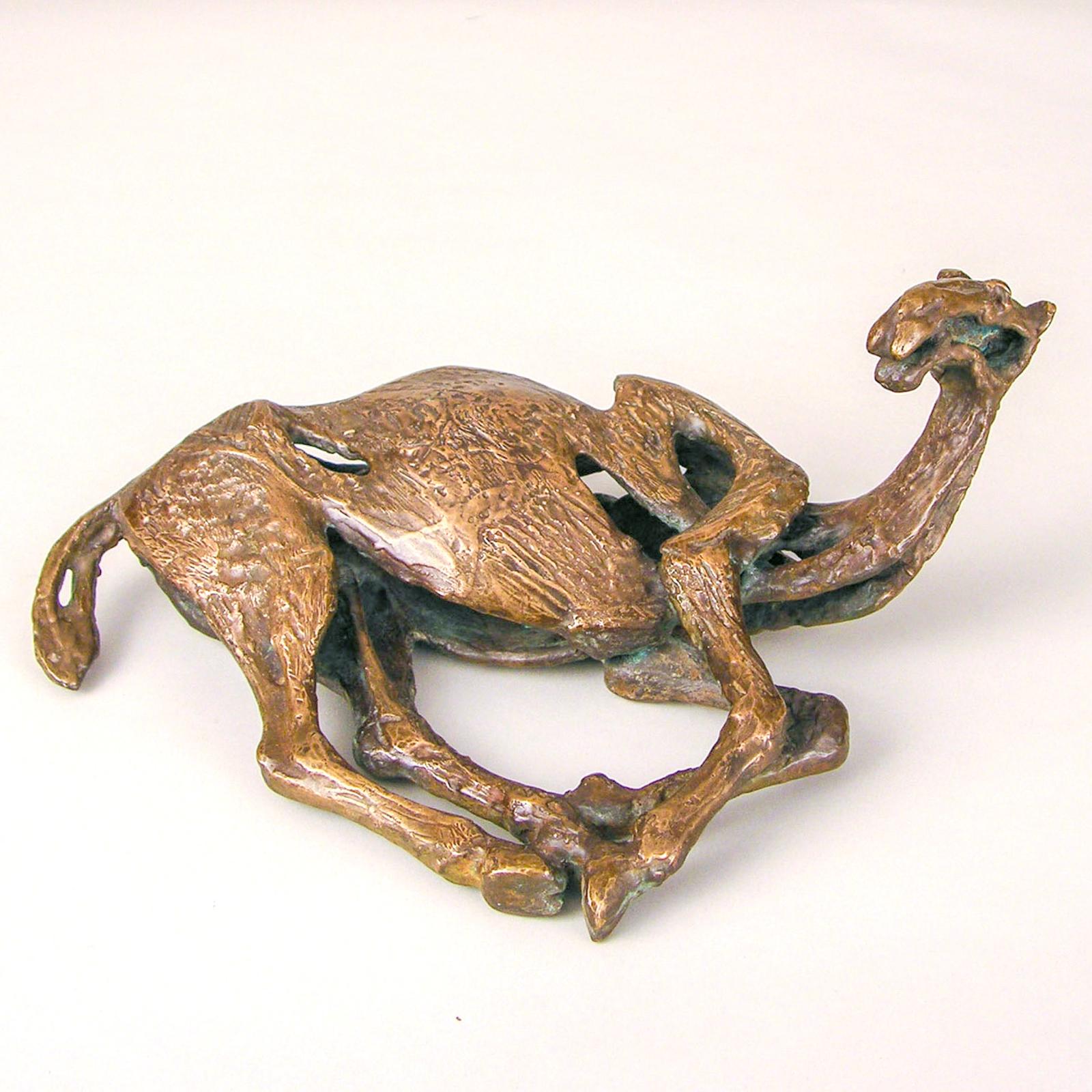 Bronze
9 1/2 H x 13 W x 5 1/2 D inches
Signed and dated: R. Cook '87
artist
Fluid, dynamic, and energetic best describe the work of American sculptor Robert Cook. Cook's impressive ability to capture motion in his bronze forms is created by lost wax casting, or cire perdue. This distinctive and intricate technique is translated into aesthetically captivating and mind-provoking sculptures.
The New York Times critic Stuart Preston once claimed,
"Cleverness and absolute assurance of technique and overall design identify Robert Cook's new semi-abstract metal sculpture. He tackles the kind of subject matter, massed figures and animals in motion, that would seem to be intractable to a sculptural treatment. He succeeds in this attempt by re-introducing subjects to skeletal lines of force, somewhat in the manner of futurism".
The exhibition will feature twenty-one of Robert Cook's most intriguing works. Among them are Gaiety, whose lively and spirited forms create positive and negative space and almost mimic a graceful, choreographed dance; Pan 1, a portrayal of the purely natural interaction of human and animal in a circular shape that reflects the cycles of life and death; Five Senses, which further embodies the theme of "Circles and Cycles" in Cook's work and has a mythological and even eerie presence; and finally Virasat Curved, which demonstrates a juxtaposition between the inherently fluid essence of movement and its physical translation into geometric, rigid body structures that are fixed in time. These four sculptures alone reveal the true versatility of Cook's work, not only in terms of size and subject matter, but also with regards to his unique and cerebral artistic rhetoric.
Over the years Robert Cook's innovative mind and skillful practice have allowed him to forge a successful lifetime career in the world of sculpture. He has studied in Boston, Paris, and Rome, and boasts an impressive list of achievements, such as grants from the Tiffany Foundation, the American Academy of Arts and Letters, and the Fulbright Commission. Cook's work has been widely exhibited across the globe, both in similar one-man shows and in public spaces as well. Dinoceras, for example, was first installed in 1971 in a Park Avenue plaza in New York City. Striking and massive, the 20-foot-long sculpture has a commanding presence and demonstrates Cook's signature forms, which are enveloped in a flowing movement that is both sophisticated and primitive.
Description
Studying under George Demetrios' tutelage, Cook began forming wax in 1940 during his last year in Boston with his mentor. After moving to Rome in 1948 wax became an essential part of his creative process. Cook developed his own technique, which cut down the process and allowed him to model his final version directly in wax. This process was limited however; Cook was required to keep the wax from 1/8 to 1/4 of an inch thick so that it was able to be cast in bronze. It couldn't be any thicker or thinner or else the result would not withstand the casting process. Another challenge was that only one bronze could be obtained from the original wax in what is known as the lost-wax process. But, as Cook worked within these perimeters and began to make larger and larger pieces he feared cutting them in sections and then reattaching them as is done in ceramics. So little by little he began thinking in terms of hollows and solids - or black and white. As in a line drawing the viewer's mind reads negative as well as positive space without even thinking about it. It was with this process in which Cook created his most impressive and mature sculptures.
Laying Down Camel is an example of a work done by the above process. When using this process, Cook was able to capture the personality of a particular scene. In this work, he captures a camel lying down after what could have been a hard day's work. Cook also makes sure to add his own personal interpretation from the scene like he does in so many of his works.