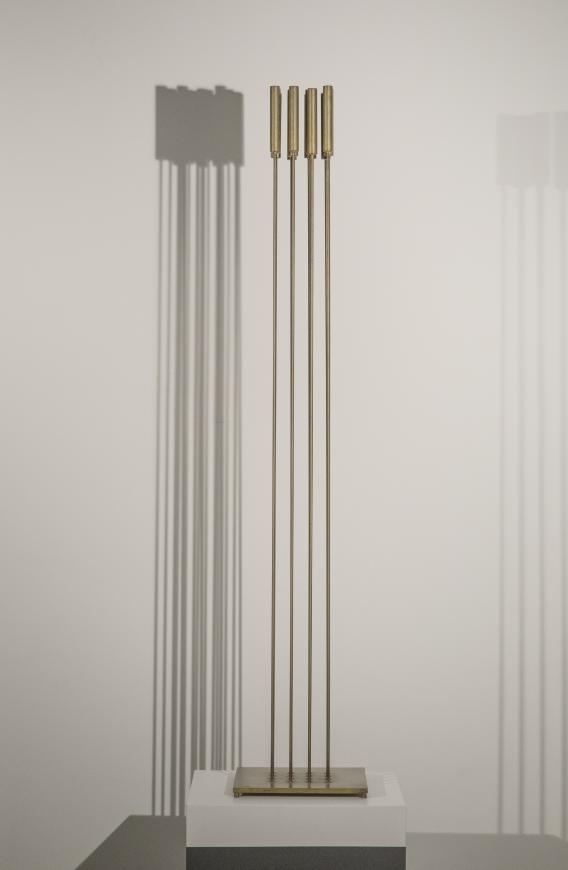 Tall Sonambient, Bally, PA

,

circa 1970s
Beryllium copper and brass
53 H x 10 W x 10 D inches
artist
Harry Bertoia was born on March 10, 1915 in San Lorenzo, Italy. He immigrated to the United States in 1930 and enrolled in Cass Technical High School. There he studied art and design, eventually learning a trade in designing jewelry. He went on to study at the Art School of the Detroit Society of Arts and Crafts and then to Cranbrook Academy of Art where he met Walter Gropius, Edmund Bacon, and Ray and Charles Eames. In 1939 Bertoia opened a metal workshop where he taught metalwork and jewelry design. In 1950 he moved to Pennsylvania where he established a studio and began to work with Hans and Florence Knoll, the iconic furniture designers. Bertoia designed a number of chairs for the Knolls known as the Bertoia Collection. In the mid 1950's he turned his attention solely to sculpture.
In the 1960's Bertoia embarked upon creating his sound or "Sonambient" or "tonal" sculptures which would be one of the most important innovations in the realm of sculpture in the 20th century. It is believed that Bertoia had an "epiphany" when he struck a metal rod while working with it and was taken with the sound it produced. It is important to note that Bertoia's focus was on working with various alloys and metals to develop certain tonalities and that the air and space around these works was important in his thought process. Today his sculptures can be found in a number of well known museums, corporations, educational institutions, and private collections. His sound sculptures especially both fascinate and attract numbers of ardent art patrons and collectors. Bertoia died in Pennsylvania in 1978. The Harry Bertoia Research Project continues his legacy. Yet it is the sound of his sculptures that will live on in the memories of his followers and supporters.
Description
This impressively-sized Sonambient—or sound sculpture—is an architecturally elegant work, both refined and well-conceived. Boasting a dramatic arrangement of thin vertical rods capped by thick staccato cattails, this Sonambient is one of Bertoia's larger examples, designed as a floor-standing piece or to stand on a low pedestal. The sculpture's thinness and verticality contribute to its sense of presence; when struck, the reverberations of its rods create a sound unique to this piece alone, one that reflects Bertoia's engineering genius. With its graceful workmanship this sculpture is dramatic, and yet classic; contemporary and yet timeless in its ability to be placed both in any outdoor or indoor space. The sculpture becomes a special entity and a stunning focal or punctuation point of any space. What sets it apart from most modern sculpture is the fact that it was specifically designed for interaction.
provenance
Mangel Gallery, Philadelphia, PA, 1970s
By descent in the family