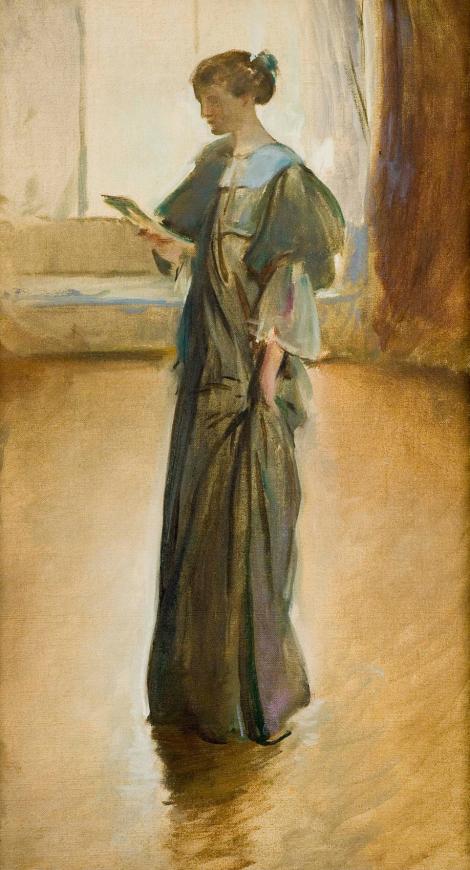 Standing Woman Reading a Letter, Onteora Studio

,

circa 1912
Oil on canvas
40 x 21 1/2 inches
artist
John White Alexander was born in Allegheny, PA on 7 Oct 1856; he died in New York on 31 May 1915. He was known as an American painter and illustrator. He began his career in New York in 1875 as a political cartoonist and illustrator for Harper's Weekly. In 1877 he went to Paris for his first formal art training, and then to Munich, where he enrolled at the Kunstakademie under Gyuala Benczúr. In 1878 he joined a colony of American painters established by Frank Duveneck in Polling, Bavaria. In 1879 they traveled to Italy, where Alexander formed friendships with James McNeill Whistler and Henry James. In 1881 he returned to New York, working as an illustrator for Harper's, as a drawing instructor at Princeton and as a highly successful society portrait painter. He also exhibited at the National Academy of Design. By 1893 his reputation in both Europe and America had soared, and in 1895 he was awarded a prestigious commission for a series of murals entitled the Evolution of the Book in the newly established Library of Congress in Washington, DC. After 1901 Alexander became deeply involved with the promotion of the arts in America. He won numerous mural commissions (e.g. Pittsburgh, PA, Carnegie Inst.; from 1905, unfinished) and continued to paint portraits.
In 1881 after a time spent in Europe traveling with fellow painters Frank Duveneck and William Merritt Chase, John White Alexander returned to New York and achieved great success in the art of portraiture. He painted the likenesses of such luminaries as Oliver Wendell Holmes, John Burroughs, Walt Whitman, Henry G. Marquand, R.A.L. Stevenson and State Supreme Court Justice Mercer Beasley. Alexander had been schooled in the art of portraiture while working for Harper's Magazine and Century Magazine for which he submitted portraits of prominent Europeans.
Description
The Alexanders spent their time away from New York City in the Catskills at Onteora beginning in 1903. Founded by Candance Wheeler and her brother, Francis Thurber, it was a haven for artists, musicians, writers, journalists, and performing artists, including the actress maude Adams. It was at Onteora that Alexander produced a body of work that combined a figure in an interior with sunlight filtered through sheer window curtains. The extreme looseness of the brush in this canvas distinguishes it from others of this period such as The Ring (1911, Metropolitan Museum of Art) and The Gossip (1912, Philadelphia Museum of Art). Alexander's distinctive use of lighting effects can be attributed to his work on theater sets for Maude Adams, his neighbor in Onteora. His use of gauze for stage curtains and the manipulation of stage lighting, informed his use of light in these late Onteora paintings. A critic for the Pittsburg Dispatch of May 8, 1910, Adele Fay Williams, described one of the Onteora paintings, A Summer's Day (c. 1912) as follows: "...two graceful girls in light gowns against a fluttering window curtain that lets in a surge of light."