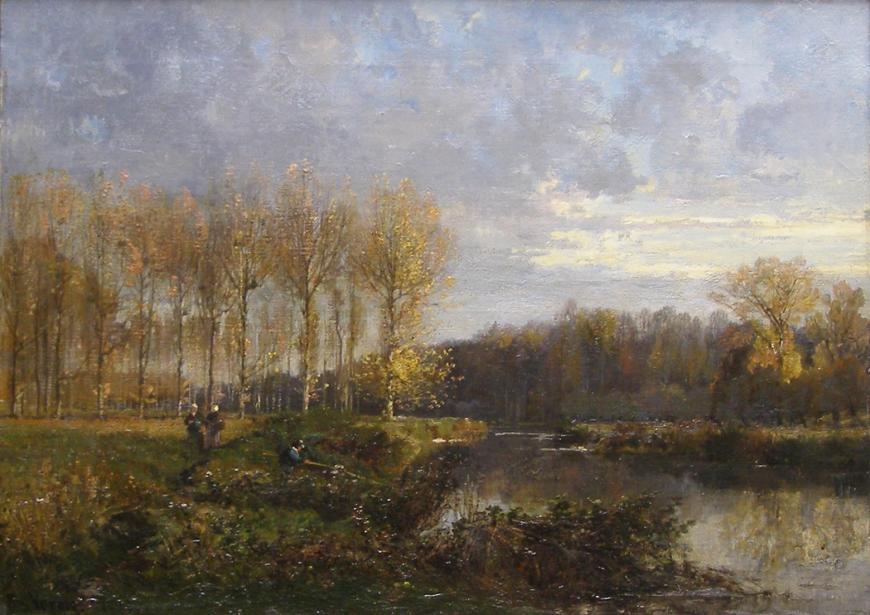 Pêcheurs et Paysannes au Bord de la Rivière

,

1875
Oil on canvas
16 3/4 x 23 1/4 inches
Framed: 24 1/4 x 31 inches
Signed and dated lower left: AR Veron. 1875.
artist
Alexandre René Veron was born in Montbazon in 1826. He studied with Delaroche and Charles François Daubigny; two noted artists of the Barbizon school. Members of this group were naturalist landscape painters who worked in the Barbizon region of France. Typical of this school is the division of the canvas into darker tones and land on the left contrasted against the clearing on the right. The tumultuous clouds that Veron has depicted are typical of his paintings of this period, and can be seen as a characteristic of his work.
In 1848 Veron made his debut at the Paris Salon, where he continued to regularly exhibit his work for over thirty years. He died in France in 1897.
Description
In this painting, Pêcheurs et Paysannes au Bord d la Rivière, Alexandre Veron has captured the briskness of an autumn day in France. The artist has painted a landscape divided almost centrally into two halves: the left side features two peasant women and a fisherman along the banks of a river, and on the right, the river is shown winding through the countryside. An emotionally turbulent sky hovers over the landscape, with light just breaking through the clouds, suggesting that a storm has just passed. Veron is a Barbizon artist and his landscapes reflect the rich use of greens and expressive skies that are typical of this school. Veron frequented the Fontainebleau Forest along with Delaroche and Daubigny, where they often worked in plein-air. It is likely that Pêcheurs et Paysannes au Bord de la Rivière was painted within this woodland.
provenance
Private German Collection