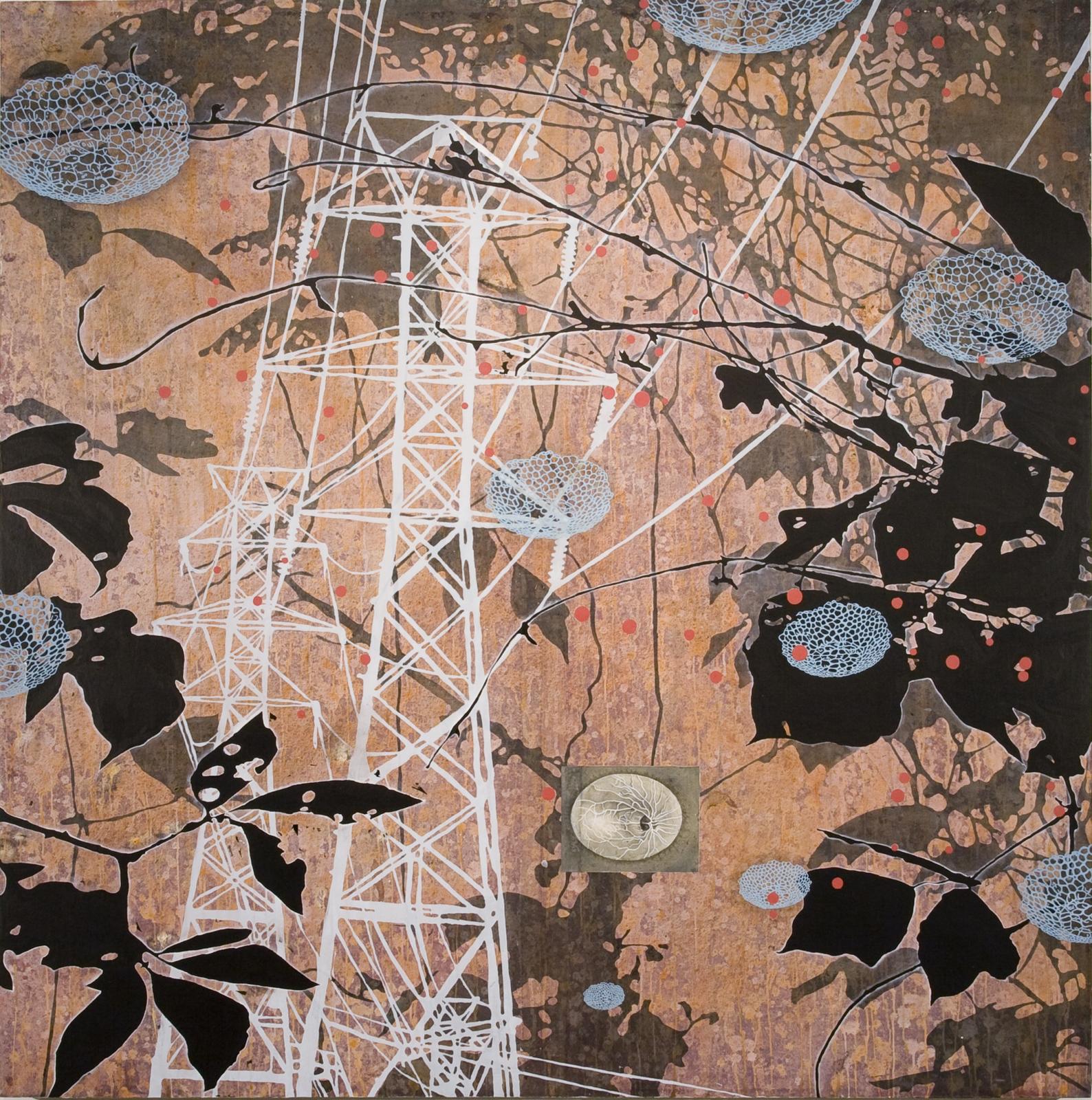 Migrant Universe: The Evangelist

,

2008
Acrylic, pigment, charcoal, and chalk on homemade paper mounted on board
60 x 60 inches
Signed, titled, and dated verso
artist
"I use languages of printmaking, drawing, photography and poetic text to explore questions of cultural belonging, hybridity and memory. I work on and with the paper, the substrate civilizations are recorded upon, the last bastion of tactility in our world of virtual images. The processes themselves and metaphors they offer, the physicality of paper and drawing media, the visual sources I use, all inform my work.
There is no discernible center of my images, and the floating elements come in and out of focus, alternatively anchoring and orbiting others, settling nowhere permanently. I use perspective, but not as illusionistic tool. I cultivate the space in drawing or print that is polyphonic and at times contradictory. The works are metaphorical maps of change, perishing and memory. They beg for highly individualized, poetic translation. I hope that the viewer sees them the way one sees a familiar thicket of weeds one day, in particular moment, in particular light, suddenly awash in form and meaning."
—Tanja Softić
Born in Bosnia in 1966, Tanja Softić studied at the Academy of Fine Arts in Sarajevo and earned her M.F.A. in Printmaking from Old Dominion University in Norfolk, Virginia in 1992. She works across the media of printmaking, drawing, photography and book arts, and teaches at the University of Richmond. She is a recipient of the Pollock-Krasner Grant, National Endowment for the Arts/ Southern Arts Federation Visual Artist Fellowship and Soros Foundation—Open Society Institute Grant. Her work is included in collections worldwide, among them those of the New York Public Library, Library of Congress Print Department and New South Wales Gallery of Art in Sydney, Australia.
Description
Migrant Universe: The Evangelist is a brilliantly intricate composition that stuns in its elaborate detail and visual complexity. Drawing upon personal history and memory, Softić pulls her imagery from formative points in her own life: floating cellular forms in light blue reference the profound experience of using her father's microscope as a child, while white outlines of transmission towers and power lines are reminiscences of sitting in the back seat of her parents' car and watching the world outside go by. The Evangelist refers to an encounter the artist had in Mexico City with an evangelista, someone who transcribes the words of the illiterate in order to aid them in writing letters and composing documents. Softić has noted that she sees her role as not unlike that of an evangelista, distilling the experiences of the Migrant Universe into finite records on paper. Encircled by jet-black leaf forms and plant-like tendrils, The Evangelist juxtaposes the organic against the manmade. Central to Softić's work are the themes of disparity and transience as they apply to identity; her forms are ephemeral and impermanent, but ever-connected by linkages and transitions that relate intimately to a worldview based on transformation through adaptation to difference.
Created between 2007-2011, the Migrant Universe series is comprised of ten works that, taken together, constitute a 'visual poem.' Softić mounts fine Japanese paper onto a repeatedly gessoed and sanded birch plywood surface, then simultaneously sizes and stains the paper with thin washes of pigment and acrylic medium. She composes her imagery in acrylic, charcoal, chalk, and graphite, eschewing automatized techniques in favor of a highly manual and deliberate process.
exhibitions
2014 Migrant Universe, University Museums, University of Richmond, VA; Migrant Universe, University Galleries, Tufts University, Medford, MA
2013 Migrant Universe, Eleanor D. Wilson Museum, Hollins University, Roanoke, VA
2011 Migrant Universe, Halsey Institute for Contemporary Art, College of Charleston, SC